One of our Foresight staff members share photos and reflections from visiting Dihua Street Lunar New Year Market last year, an annual event cancelled due to the pandemic this year.
In Taiwan and many other Asian countries, the Lunar New Year (also called Chinese New Year or Spring Festival), is the biggest, most significant festival of the year. The annual holiday is a welcomed break from work and school, and a heartwarming time to celebrate with family, indulgent foods, red envelopes stuffed with crisp bills, and wishes for a happy and prosperous year ahead.
While many international teachers take advantage of their well-deserved semester break to explore places beyond Taipei (this year, it looks like it'll be domestic travel only), I find myself in the much smaller group that typically sticks around for the holidays each year, enjoying a low-key break in Taipei.
Last year, I enjoyed visiting Dihua Street in Taipei's historical Dadaocheng district for the annual Lunar New Year Market, and was excited to visit again this year for all the street snacks and samples.
Instead, I was crushed to find out it has been cancelled for 2021!
I mean, a large holiday market that brings thousands of people into a very small area, packed with vendors selling and sampling open food? Okay, probably not a great event to have at such a time as now with a global pandemic still very much in effect. Even though Taiwan has emerged as an exemplary leader in its response to the pandemic, and our day to day lives have remained relatively unaffected, we still remain vigilant.
So instead, here I am reflecting on the experience of last year and looking forward to the days when such festivities become possible again.
There's something charming about Dadaocheng, where vibrant reflections of the past meet with the present. Though I had visited Dadaocheng a number of times before, this time, the atmosphere was tangibly different. Even upon approaching the area, I noticed that the streets were lively, not with hurry, but a leisurely excitement. The whole street had transformed into a bustling market where shoppers were enjoying street foods and sampling various goods to prepare for New Year's - candies, snacks, dried fruits and meats, teas, and red envelopes blazoned with auspicious wishes.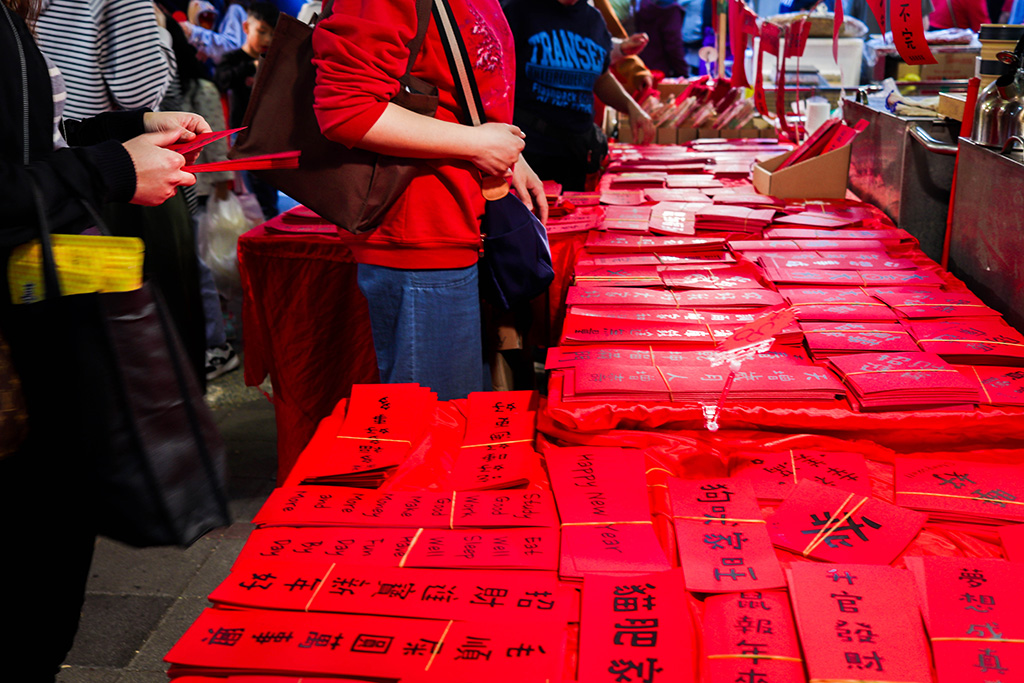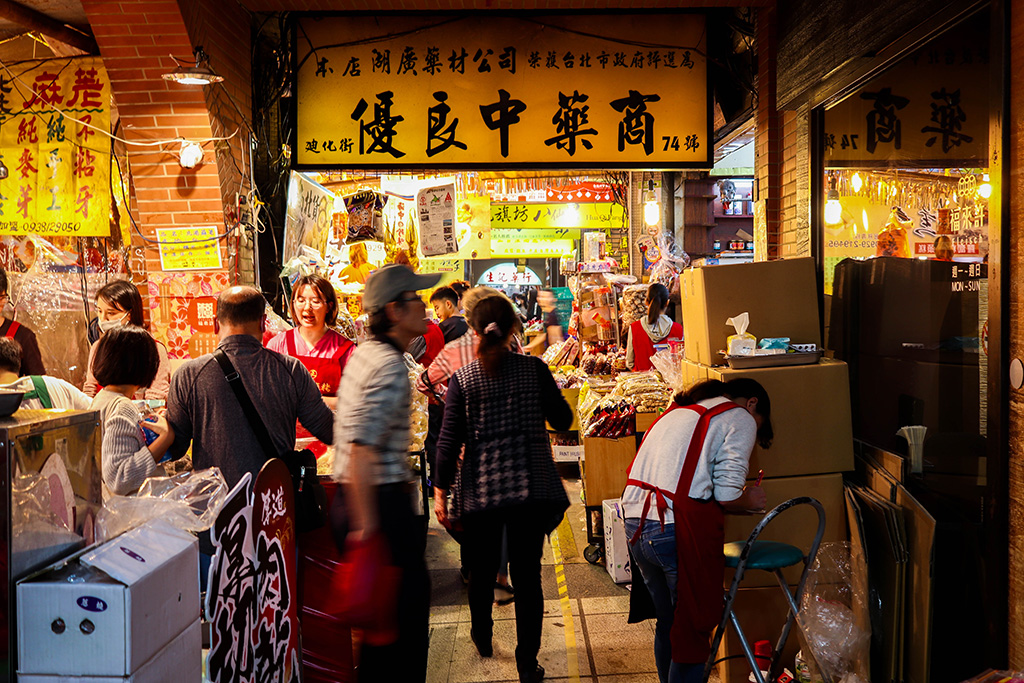 Despite the area being busy and crowded, we were able to enjoy it at a relaxed pace slowly meandering and taking in the sights and smells. The vendors were kind and friendly, but not in an overbearing way that makes you avoid lingering too long for fear of being harassed into buying things you don't want. Rather, we were able to take our time checking out the various goods, chatting with the vendors, and sampling many different traditional and non-traditional snacks, without feeling uncomfortably pressured into buying.
It seemed to me that the many of the people working the booths were university students picking this up as a seasonal gig during their semester break; they were having a blast working alongside their friends and it kept the atmosphere fun and lively. One of the highlights was trying different dried fruits and vegetables - there was such a wide variety, and the students were so keen to make sure we got to try them all! We definitely bought some to enjoy as a snack later (and for the next couple weeks).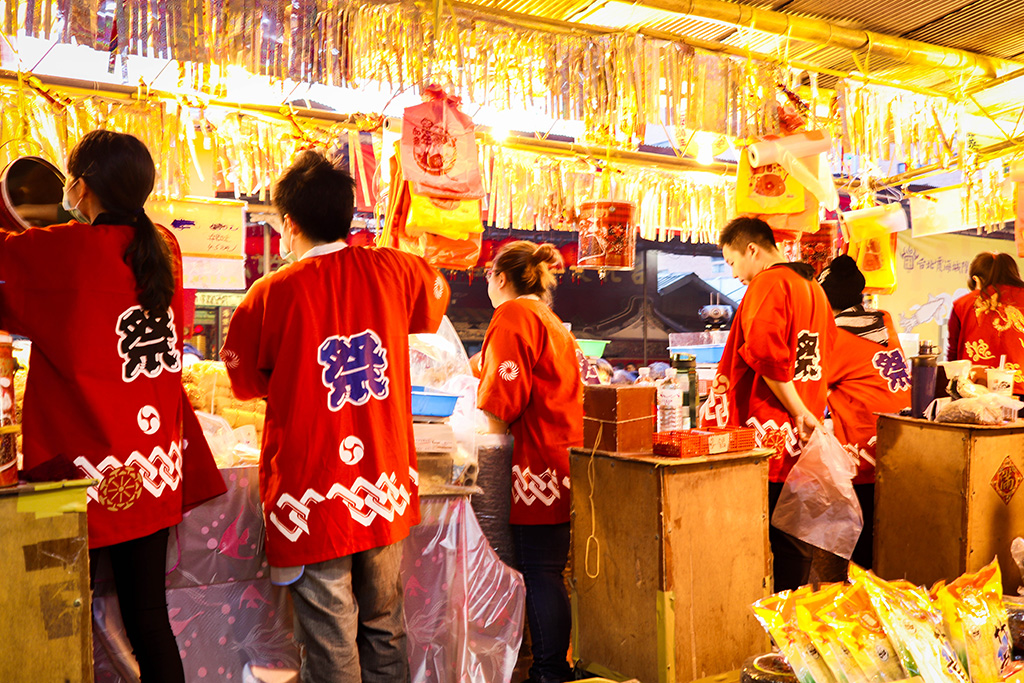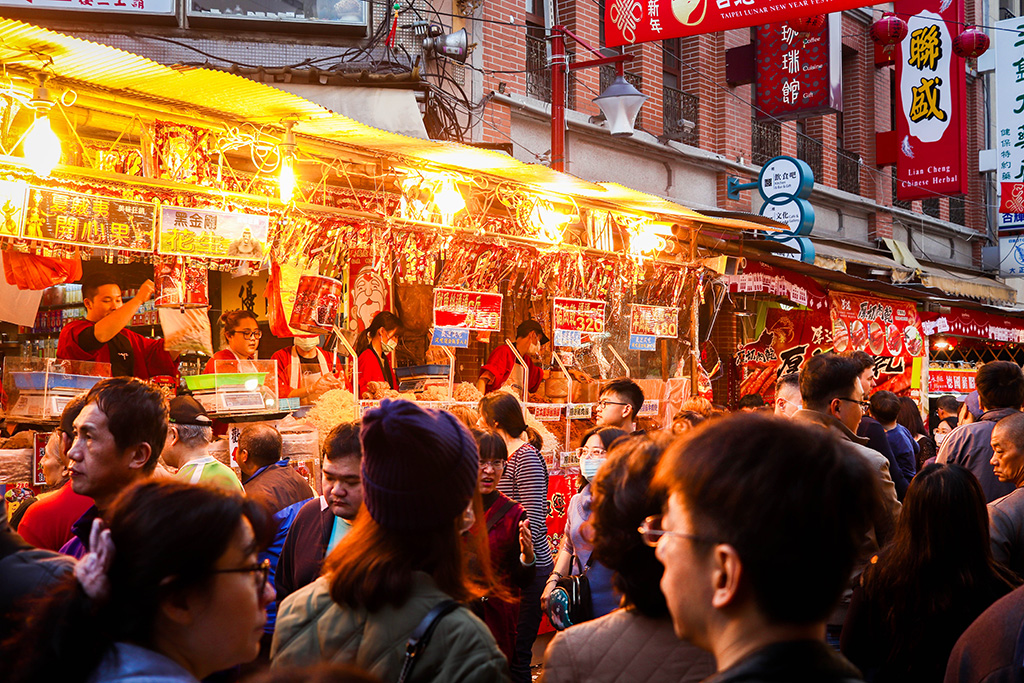 As of New Year's Eve, the streets of Taipei become quiet and empty, as businesses close and people leave the city to spend the holiday in their hometowns.
This year, I'll be staying in Taipei, enjoying the quiet atmosphere and meals with family and friends, or taking advantage of the (hopefully clear and warm) weather to get some hiking in. How are you spending Chinese New Year?
May you be safe, healthy, and have a happy New Year!
Lian is a high school teacher from Calgary, Canada and has lived in Taiwan for over three years. She has taught English in Hong Korea, Korea, and Taiwan, and currently works as part of Foresight's HR team. When she's not hiking, biking, or otherwise enjoying Taiwan's beautiful outdoors, she enjoys playing board games with friends.