Do you have some essential classroom items that you can't imagine teaching without? We sure do! For our Ontario-based ESL program, we aim to recreate a classroom environment for students that would be similar to what they would experience in schools in Canada. While teachers have the freedom to make their classrooms their own to reflect their individual teaching style, there are some key elements that you'll consistently find in each of our ESL classrooms across the program. Walk into an ESL classroom at any of our partner schools, and here are 10 essential elements that you are sure to spot.
1. Smartboard or Projector

In conjunction with the whiteboard or blackboard, the screen is often the hub of direct instruction with the whole class. While this is now becoming standard in any classroom regardless of subject, when working with language learners in particular, slideshows, videos, visual timers, and other visual aids are critical in supporting students' understanding. What other uses can you think of?
2. Table Groupings
Sometimes students are seated in traditional rows, but in our program, it's more often that you'll see desks arranged in table groupings, which are more conducive to collaborative learning or centre work. Classroom seating is dynamic and teachers change it up regularly to best suit the current learning goals and different needs of the students.
3. Classroom Library
When students ask about how to improve their English, we say that one of the best ways is to read English books often. We ensure that students have access to a wide variety of high interest, level and age appropriate books, including a number of graphic novels, non-fiction books, and adapted literary texts. Teachers can freely rotate books in and out of their classroom library throughout the year to suit their current unit theme and students' interests.
4. Word Wall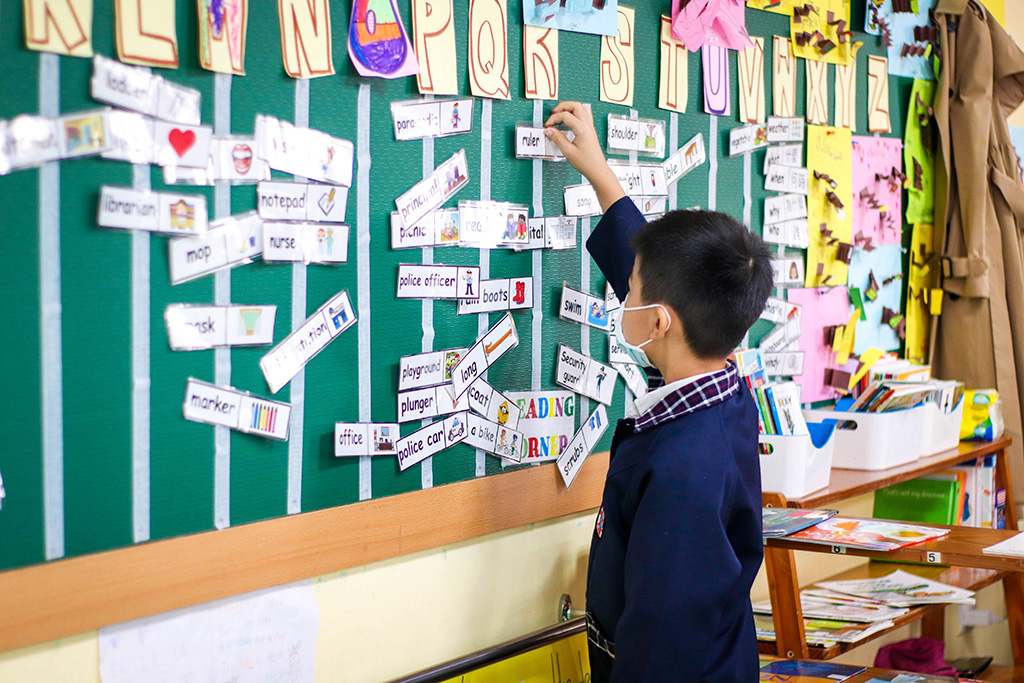 Classroom word walls are built organically over time, with words being added as they are taught in context. They can be organized in different ways, such as alphabetically, thematically, or by part of speech. Word walls also empower students to become more independent in their learning. When they want to check the meaning or how to spell a word they've learned before, students can refer to the word wall, instead of asking their teacher first.
5. Mini Whiteboards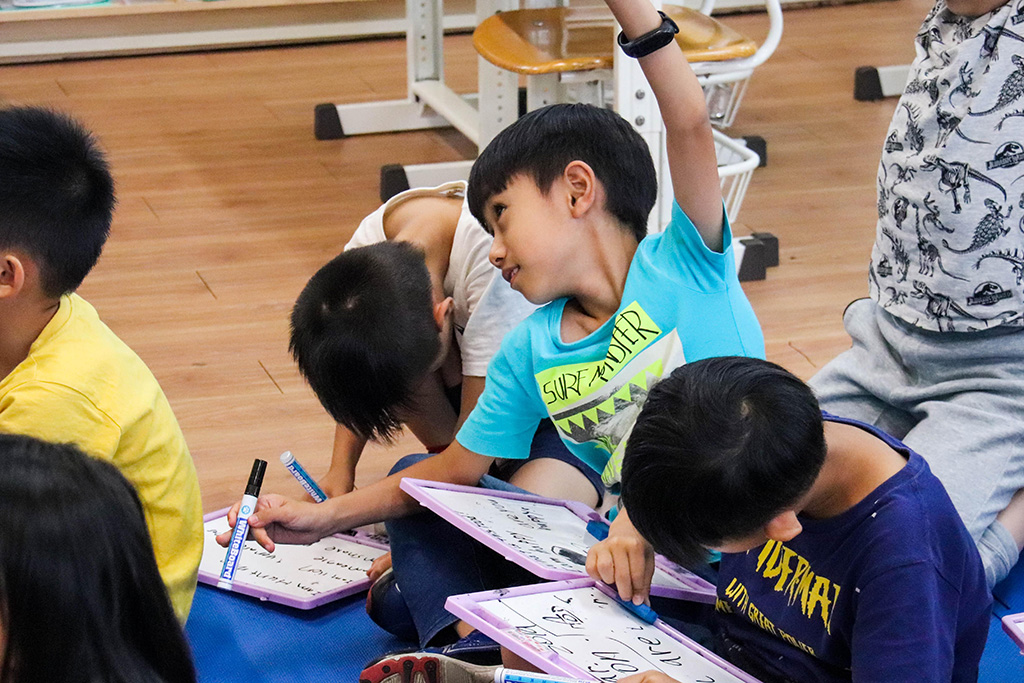 There's so much you can do in the classroom with these simple tools! Especially when first learning English, young learners can practise writing their words without reduced pressure about making spelling mistakes, while older students can use whiteboards during team games or collaborative activities. Step into any of our elementary classrooms and you're sure to see these.
6. Designated Notebooks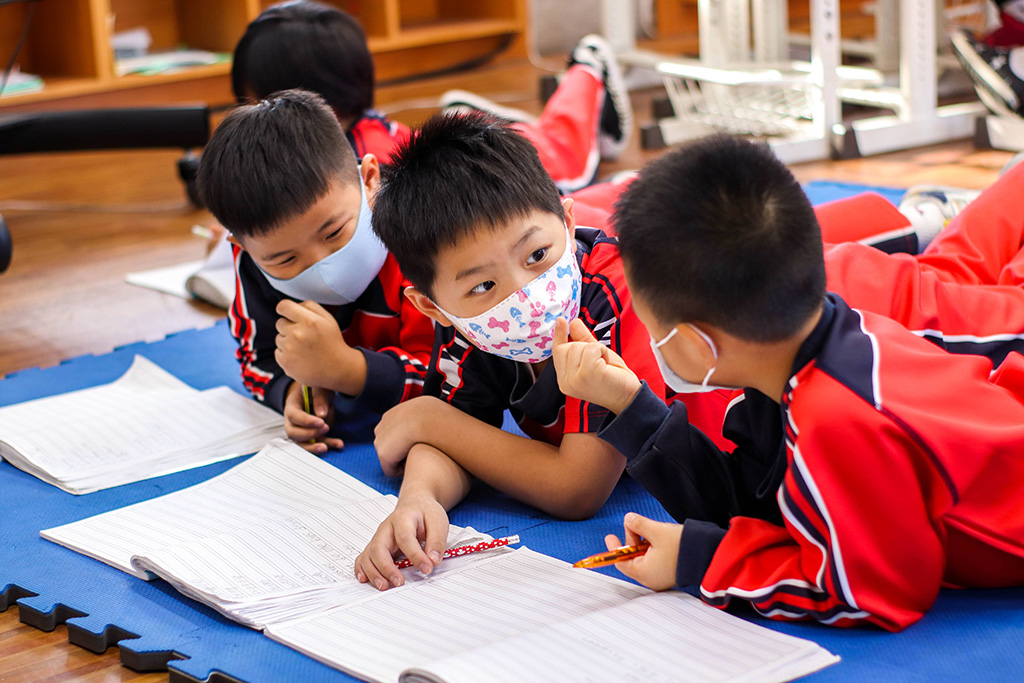 In our ESL program, we don't use textbooks. Instead, to keep track of their learning and stay organized, students have different notebooks designated for their in-class work, homework, and other "subjects." In some grades, for example, students may also have separate notebooks for their reading journal or electives subjects. All students also have a folder to collect and organize any assignments or handouts.
7. iPads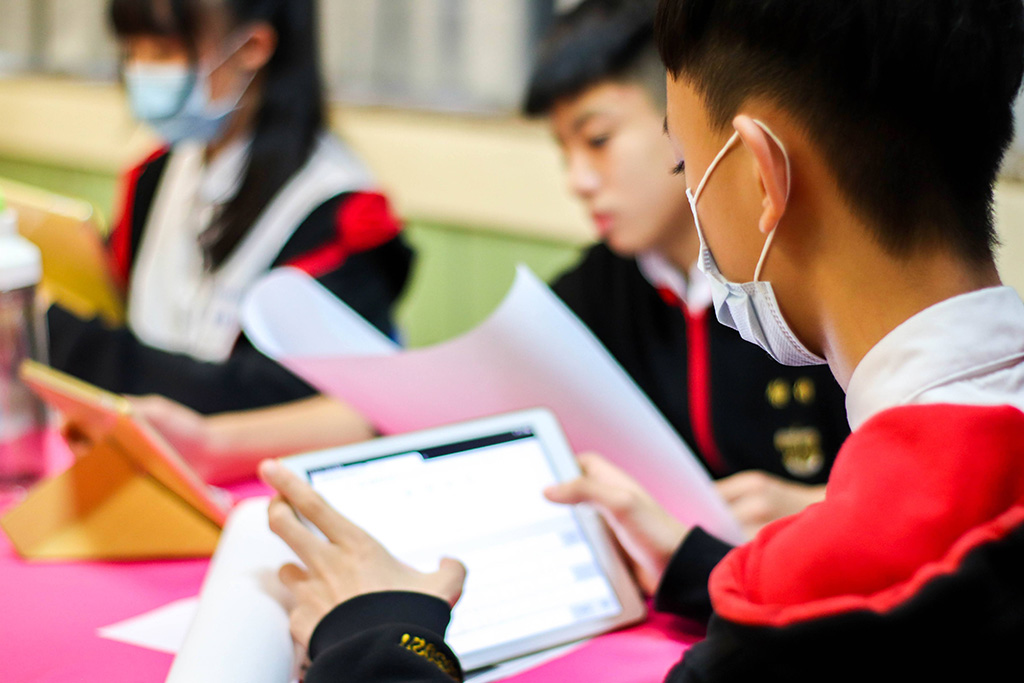 We believe digital literacy is critical for students' success in today's world and embrace technology in the classroom. That's why every classroom is equipped with iPads for each student. Students use various apps for research, recording their speaking, creating presentations, playing English games in centres, reading, and more. iPads give students access to thousands of English books (through Raz-Kids, Epic) for independent and guided reading. Teachers can also use online learning platforms with their students, including Google classroom, to assign class work, differentiate assignments, and stay organized.
8. Student Cubbies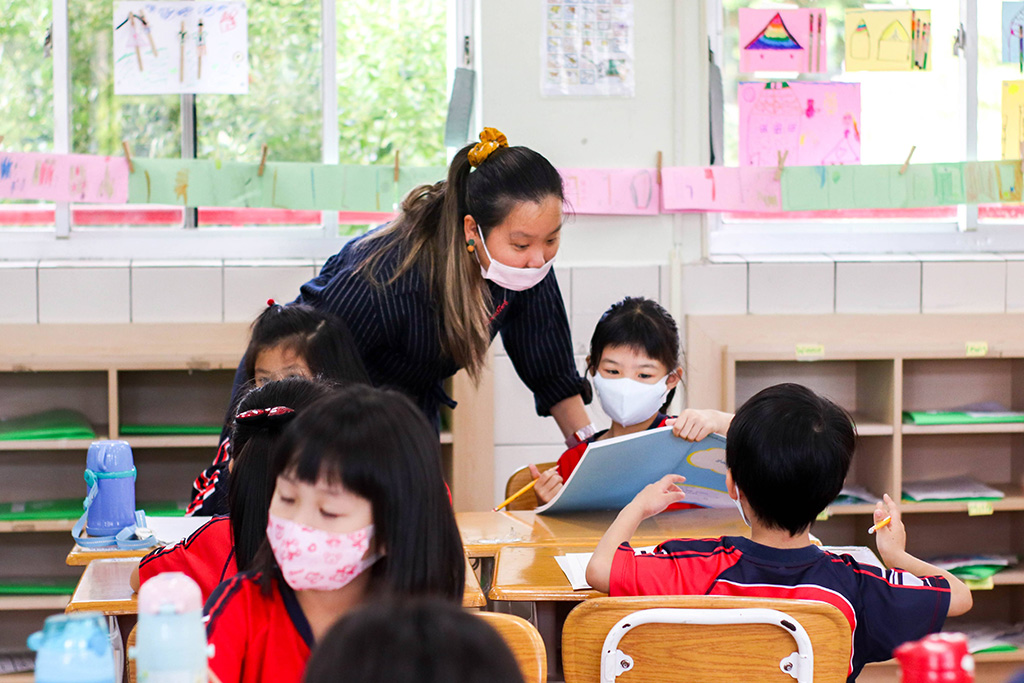 We are all for encouraging students to stay organized and be responsible for their own classroom materials! In fact, responsibility and organization are the earliest learning skills we focus on with our students. That's why each student has a designated place somewhere in the classroom, whether it's a cubby or a drawer, to keep their notebooks, folders, and other classroom materials organized.
9. Co-Created Anchor Charts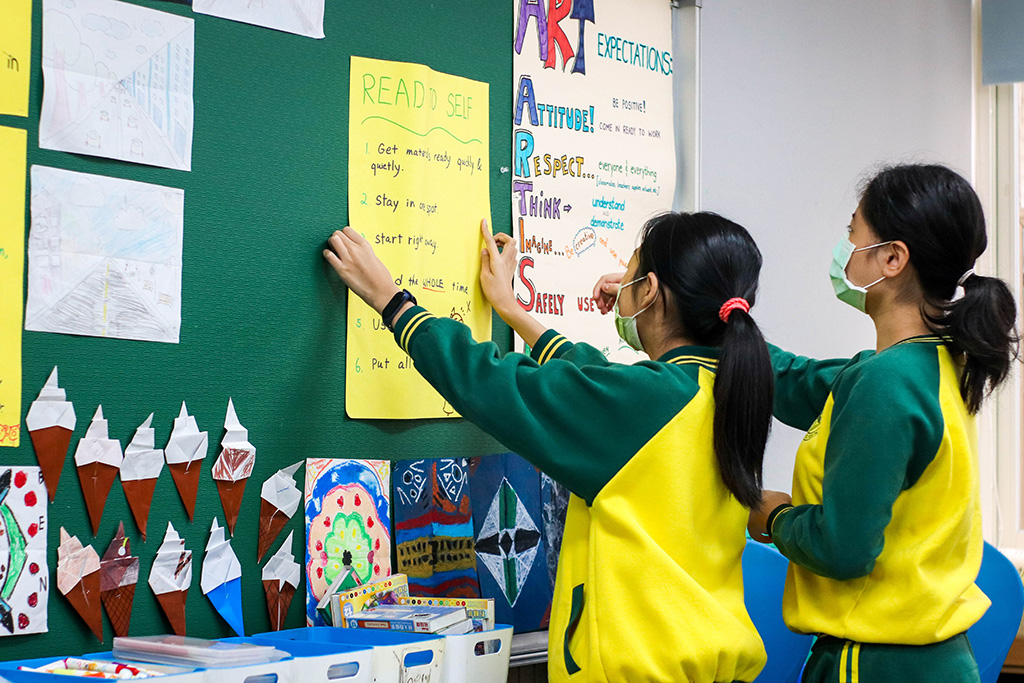 Walk into any of our classrooms and you will get a pretty clear picture of what the students are currently learning. The class works together with the guidance of the teacher to create anchor charts to represent and reinforce what they're learning, serving as reference points for future learning and instruction. Being a part of the creative process gives students ownership and deeper understanding of key vocabulary and concepts.
10. Student Work Displayed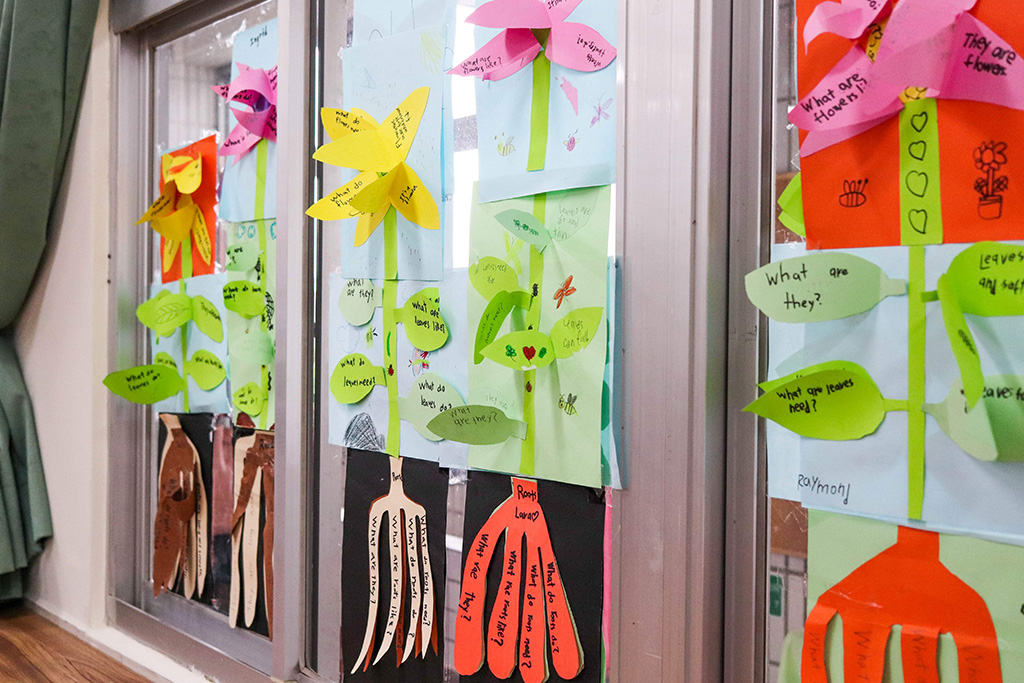 We're proud of what our students produce, and want them to be too! We intend that our classrooms should be reflective of our students; we celebrate their progress and individuality by proudly displaying their work around the classroom and in the hallways. After some time, student work goes home or into portfolios, making new space and ensuring the classroom walls don't become distractingly busy.
These are just a few of the many key elements that we use to facilitate and support language learning in our ESL classrooms. Is there anything that you would add? What are some classroom elements that you would consider essential for teaching ESL?
To learn more about our Ontario ESL Program in Taiwan and Shanghai, click here.