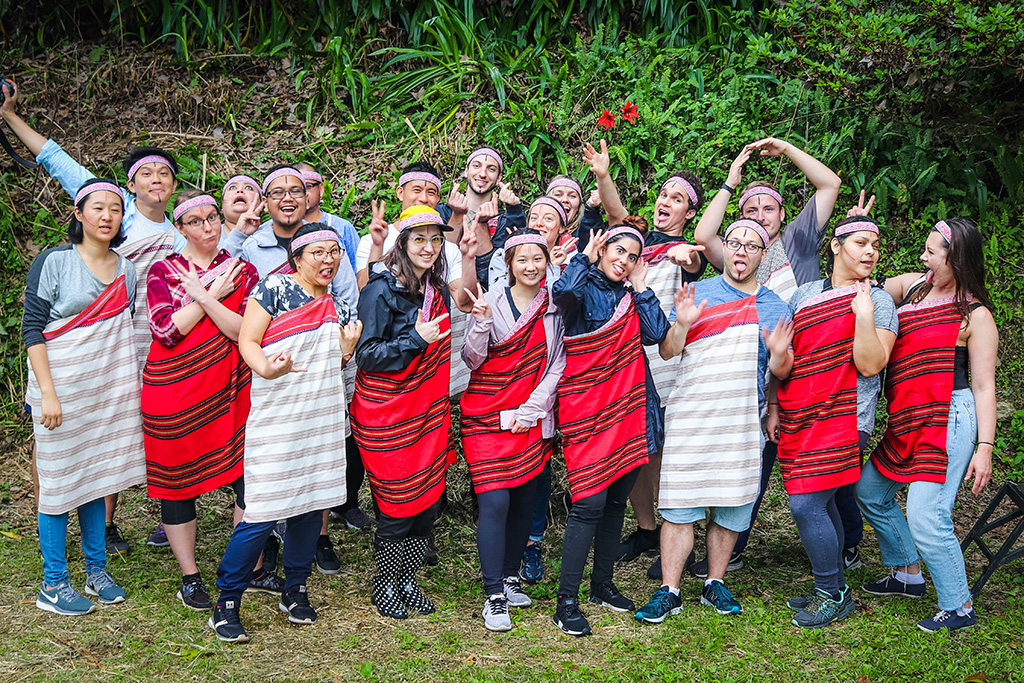 We spent a weekend at Atayalbalay Village learning about the history and culture of Atayal people. Our local guides were welcoming and eager to share their customs and traditions with us through different interactive activities, like singing, dancing, trapping and hunting, archery, and making traditional foods. Not only did we learn so much about the local culture, we also had a fun time participating in the activities and spending time together with fellow teachers.
This spring excursion was to Wulai, a small native settlement easily reached from central Taipei. The name of the village is derived from an Atayal phrase meaning "steaming hot water." Not only is the area known for its hot springs (as you may have guessed by the name), it's also a great area to experience indigenous culture, as we spent the weekend doing.
We started out in Wulai town by first visiting the Wulai Atayal Museum, which traces the history of the area's aboriginal Atayal people. Our friendly guide was excellent at explaining the exhibits and sharing about his ancestors' history and customs.
We learned that the Atayal tribe is the third-largest indigenous group in Taiwan. They originally lived by fishing, hunting, and gathering, and also practiced crafts such as weaving, net knotting, and facial tattooing. We also discovered the special significance of facial tattooing in Atayal culture. For a man, facial tattoos are earned when he has taken the head of an enemy, symbolizing his valour as a hunter to protect and provide for his people. For a woman, facial tattoos are earned when she is a mature woman who demonstrates mastery of weaving. Male tattooing is relatively simple, with only two bands down the forehead and chin, while female tattooing is done on the cheeks from the ears to the lips, forming a V shape. Although Atayal people no longer practice facial tattooing today, the significance of these symbols is still acknowledged.
As most of us previously knew almost nothing about Atayal culture, it was a rich educational experience and a great introduction for what we would later experience in the village.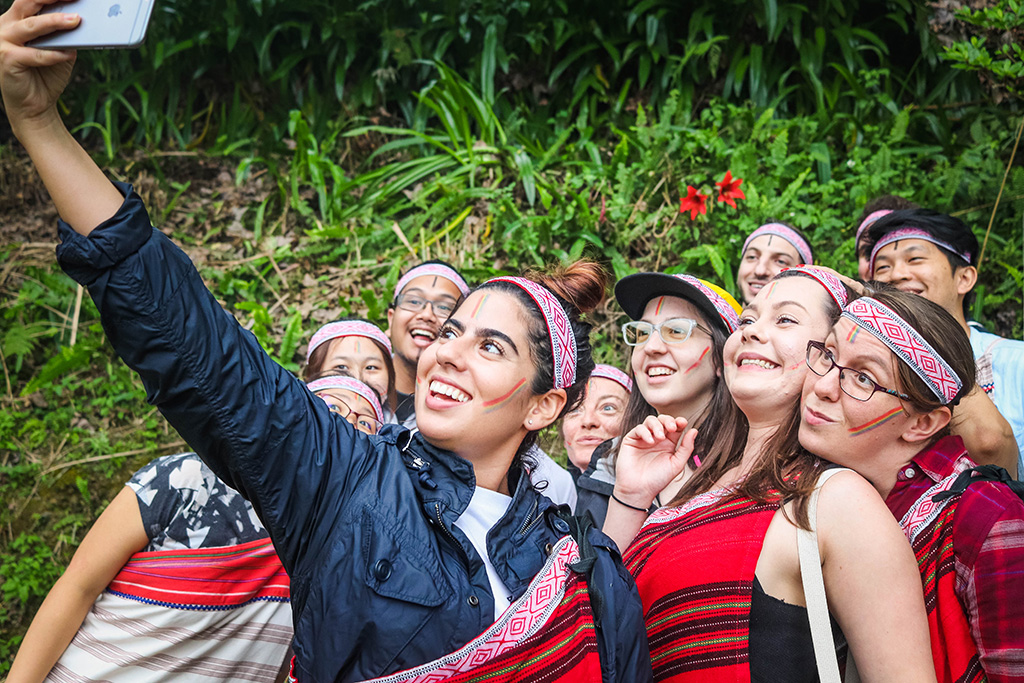 After exploring Wulai Old street (time to enjoy some of our street food favourites!) and taking the mini-train up to view the veil-like Wulai waterfall, we headed up the mountain for Atayalbalay Aboriginal Village, where we would spend the next two days surrounded by lush nature and serene mountain views.
Our first lesson was an introduction to Atayal people, which included putting on traditional costumes and learning to sing a surprisingly catchy song (which can be heard in the video!). Facial tattoos, traditionally earned through the mastery of a skill, were given to us by our guides upon our mastery of this song. Our guide also gave us some pro-tips on posing like Atayal warriors!
We then got hands on with preparing our own bamboo-tube rice. While we didn't have to climb up the mountain to gather bamboo shoots (thanks to our Atayal hunter guides for doing that in advance), our process involved cutting the bamboo to the appropriate length and filling it with the proper ratio of rice to water.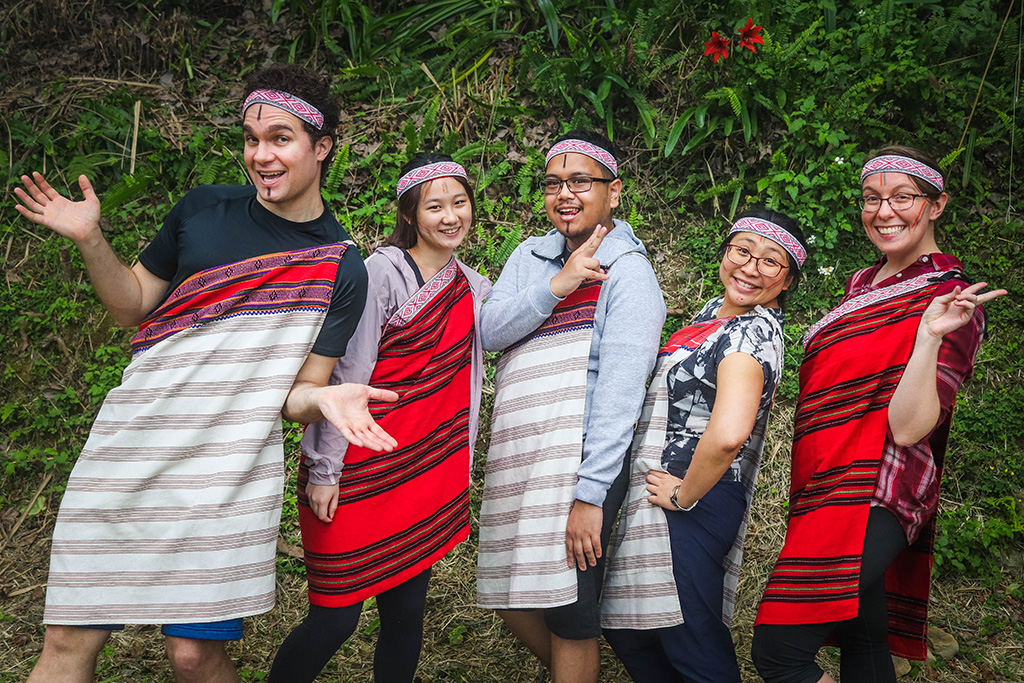 While we waited for our bamboo rice to cook, we received a lesson in traditional hunting and trapping methods. The Atayal hunter showed us different animal skulls and explained the hunting skills and wisdom passed down from the elders. Not only did he demonstrate how to set the traps, we got to play with them ourselves. We discovered it wasn't quite as easy to set the bamboo and twigs just right, but with teamwork (and some trial and error), we were able to successfully trap our colleagues' fingers!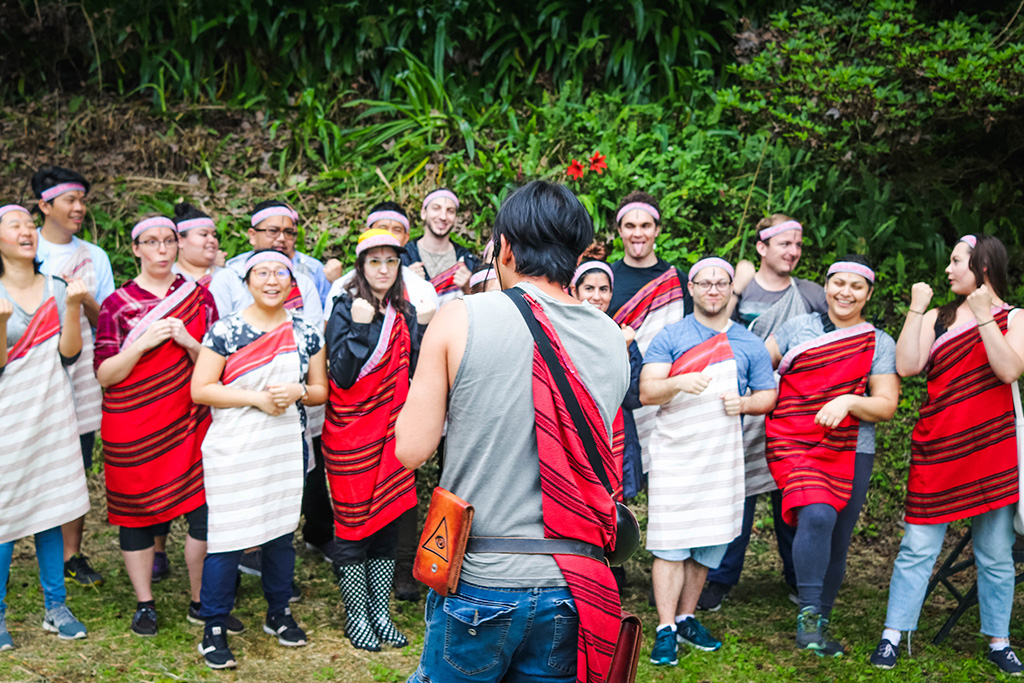 We enjoyed a savoury traditional hot stone barbecue dinner prepared by our own teachers, along with our DIY bamboo-tube rice. Our guides introduced some traditional cocktails and most importantly, millet wine, which Atayal people believe brings good luck and aids in avoiding evil. In fact, each aboriginal group in Taiwan has developed their own unique millet wine.
After dinner, our evening was high-energy and fun-filled, as we learned a dancing game (it was much harder than it looks), and had a competition with bottles of millet wine on the line. Elders from the village joined to sing songs for us. Around the fire, we sang, danced, and played games together late into the night.
The next day after breakfast, we were led on a nature walk to discover the secrets of the mountain and living with nature, including the uses of different plants, edible and inedible. We then collected leaves to decorate our own tote bags. Turns out teachers love art class! Everyone was quiet, engaged, and focussed on their artwork and they turned out amazing! Just making the kind of work we would expect from our own students, right?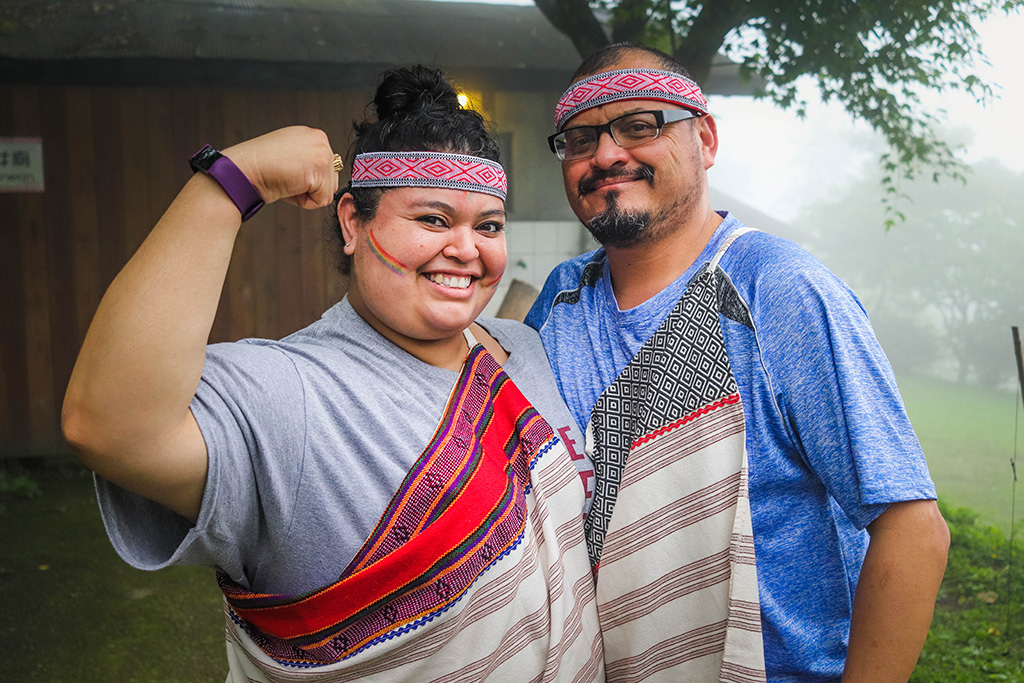 After setting our bags aside to dry, we learned to make mochi. Millet is a traditional staple for Atayal people and, in the past, Atayal mochi was given as a welcoming gift. The process involves putting rice mixed with millet into a wooden mortar, pounding the rice with a huge wooden mallet until it is smooth and shiny. We ceremoniously cheered and applauded the arrival of the rice, then took turns working together to pound it, while everyone clapped to keep the rhythm. Before our eyes, we saw the rice transform from sticky grains into a smooth, gooey, batter-like consistency. When it was ready, it was rolled in some ground peanuts and sugar, and mm-mm! Fresh and tasty!
Our hunting training was followed up with archery, although unlike the wild boars traditionally hunted by bow and arrow, our targets were stationary (which we sure needed to be able to hit them with any accuracy!). After a little friendly competition, we definitely know who the snipers amongst us are.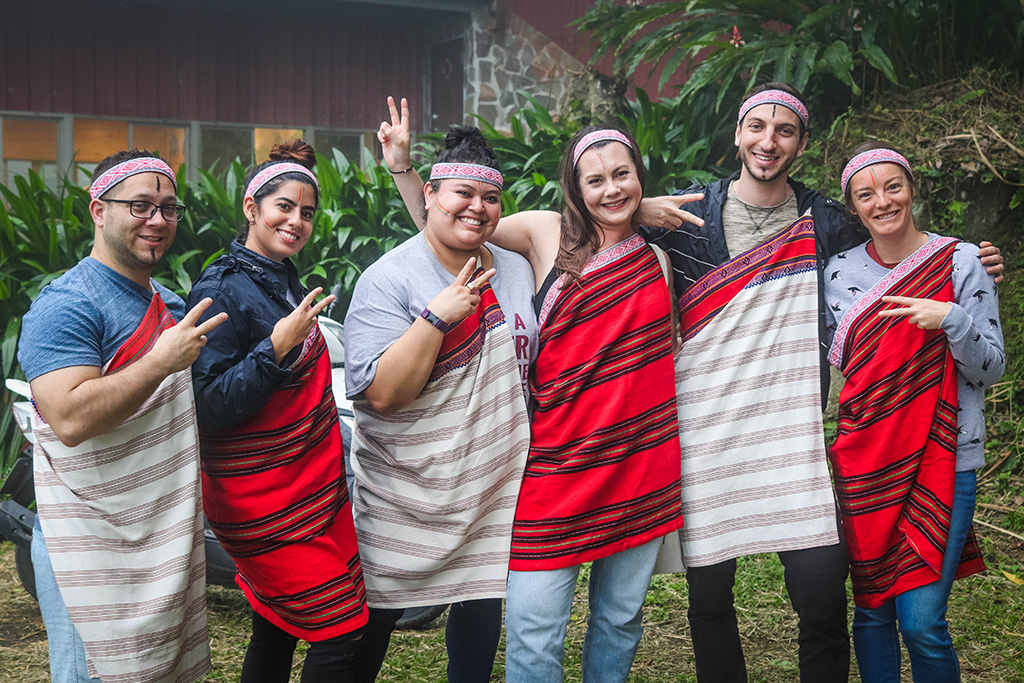 What a full couple of days! After lunch, it was time to pack up and say goodbye to our hosts. They sent us off with some cute wooden postcards and we made our way back down the mountain to Taipei.
Overall, we all had an amazing weekend away from the city, spending time in nature together and learning about another culture in Taiwan. Thank you to Atayalbalay Aboriginal Village for hosting us and sharing your culture with us!
Excursions are one of the ways FIEC provides teachers with seasonal opportunities to experience a different area of Taiwan or aspect of Taiwanese culture, as well as to gather together for some fun with other teachers from other schools. Excursions are included as part of our teachers' employment packages.