Transportation
Getting around Taiwan is easy since Taiwan is a small island and has a well-developed infrastructure and public transport system making travel in and outside of cities simple and convenient. Here are some options for getting around:

Train is one the best options for travel around Taiwan. The round-the-island railroad connects all major cities. There are also local routes, including Alishan, Jiji, Pingxi and Neiwan lines that give access to special scenic areas. Tickets can be reserved up to 14 days prior to travel via phone or Internet, but they must be picked up at the railway station or post office within 2 days of travel. For long weekends or holidays, it is recommended booking ticket far in advance.
---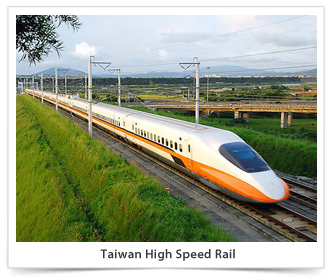 The HSR has become the most popular passenger choice for commutes between north and south along Taiwan's west coast. The express takes less than two hours to travel from Taipei to Kaohsiung. Currently the HSR services eight stations: Taipei, Banqiao, Taoyuan, Hsinchu, Taichung, Chiayi, Tainan, and Zuoying (Kaohsiung), with three more planned for the future.
Transfer between the HSR and Taiwan Railways can be made at Taipei, Banqiao, Taichung, and Zuoying. All stations provide shuttle buses, taxis, reserved pickup, and car rental services for other destinations and feature nearby parking facilities.
Taiwan High Speed Rail Website