Accommodation
With your English teaching job placement, you may have accommodation included. Even if it is not included, you can expect to find plenty of housing options available in Taiwan. Although housing in Taiwan can be relatively expensive, there is a wide range of different types of housing from lower-end studios to higher-end multi-bedroom apartments. With a little patience, it is not hard to find a comfortable, affordably-priced space for your stay in the country.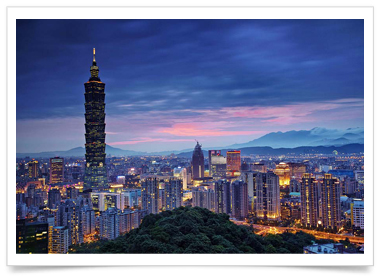 Most expats live in apartments or condos, as houses are not very common in Taiwan. Many share their apartment with other roommates, unless they come with their family. Single rooms and double suites are also offered. Rental prices are much higher in downtown areas around the country, especially in Taipei City. However, with convenient transportation, many expats choose places in New Taipei City at a more affordable rental rate.
Since Taiwan is hot and humid much of the year, most apartments have air conditioning, yet almost none have any form of heat. Some rentals are furnished, but many are not. However, it is easy to buy second-hand furniture and appliances from the expat community.
See Teaching English and Living in Taiwan (Tealit) and Forumosa for support with getting settled.
Searching for an apartment can be difficult without Mandarin skills, however there are real estate agents that speak English, but be prepared to pay an agent fee at least equivalent to one month's rent. Moreover, most landlords will require one to two months' rent as a deposit refundable at the end of your contract period. Be sure you understand all terms and conditions before signing any contracts and seek help from a Mandarin speaking colleague or friend if in doubt.
| | | | | |
| --- | --- | --- | --- | --- |
| Housing Related | Price Range(TWD) | (CAD) | (AUD) | (GBP) |
| Shared Accommodation | 6,000~ 14,500NT$ | 212~ 514C$ | 217~ 526A$ | 127~ 308£ |
| 1 BR Apartment (rental) | 15,000~ 50,000NT$ | 531~ 1772C$ | 544~ 1816A$ | 319~ 1063£ |
| 3 BR Apartment (rental) | 20,000~ 100,000NT$ | 708~ 3544C$ | 726~ 3632A$ | 425~ 2126£ |
For housing information in Taiwan, see below:
* ESL Dewey: Houses for Rent
* Forumosa: Houses for Rent
* Tealit: Housing